Proud Supporters of...
January 23 2018, Valley Volkswagen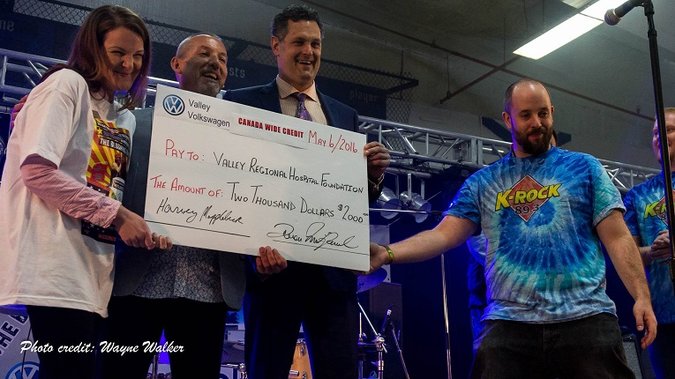 Do you have a local association, organization, or club? Are you looking for support? We're always looking for new ways to get involved in our community!
Contact us today at 902-678-2155 or stop by our showroom to see how we can work together!
Offering Support in Our Community Benefits Everyone!
Benefit for Rachel Yorke
Hadassahouse 1st Annual Paint-A-Thon
Benefit/Auction for Shirley Hiltz
Farm to Table Fundraiser for the Kidney Foundation of Canada
Spinney Family Festive Fundraiser Dinner at Acadia University
Northeast Kings High School Football Supper & Auction
Squash CF- 7th Annual Squash Cystic Fibrosis Pumpkin Launch 2017
Kings County Family Resource Centre Ticket Auction
Kings County ATV Club Rally
Benefit & Concert for Linda Schnare
Christmas Mommies and Daddies Telethon & Auction 2017
Highbury Gardens RV Park VRH Foundation Fundraiser
Atlantic Region Car Club 3rd Annual Car Show
Berwick Gala Day's Car Show 2017
Benefit Auction & Entertainment for Stephen MacDonald
Benefit Auction for Clifford Parrish
9th Annual Charity Softball Tournament for Children's Wish Foundation
New Minas Elementary PTA Annual Auction
Silent Auction & Fun Fair for Haley Arenburg
Valley Hospice Foundation - Hopping For Hospice Fundraiser
McHappy Day in Coldbrook- In support of Ronald McDonald House and Camp Brigadoon
Berwick Ringers U-19 Ringette Team - Dinner & Auction
Benefit Show & Auction for Marty England
FarmWorks Auction Fundraiser - 2017
Wolfville Curling Club's Curl For Cancer Funspiel
Benefit Show & Auction for Rebecca Skinner
Valley Regional Hospital Foundation
Eastlink & Lions Club Christmas Mommies and Daddies Telethon Auction
Berwick Minor Hockey Tournament
NKEC Football Program Spaghetti Supper & Auction
Nova Scotia Beef Growers Auction
Valley Women's Business Network Masquerade Networking Gala
Squash Cystic Fibrosis Pumpkin Launch - 2016
Benefit Show for Paul & Pat Ross
Benefit Show for Raymond Adams
ARCC - Car, Truck & Bike Show
Greenwood Military Aviation Museum & Society - Vintage Wings & Wheels Show
Relay for Life – Canadian Cancer Society "Pastor Tim's Team"
15th Annual Healy Legacy Group Golf Classic
Berwick Gala Days
Kingsport Gala Days
3rd Annual Fallen Heroes Softball Tournament
New Minas Elementary School Silent Auction
Tim Hortons Camp Day
Fundraiser/Ticket Auction for Leisa Creaser
Eden Valley Poultry Occupational Health & Safety Week Event
Alton Baptist Church Fun Fair Silent Auction
Tammie Park Playground Fundraising Project
Melvern Square United Baptist Church Ticket Auction
Cancer Care Fundraiser for Darlene Reade
Ticket Auction & Music Benefit for Donna Davidson
Farm Works Auction Fundraiser - 2016
Central Kings Boys Hockey Team
Western Valley Pee Wee AA Spartans David Morse Memorial Tournament
Valley Wild Midget Team
Squash CF – Cystic Fibrosis Canada 2015
NSCC Kingstec Foodbank
Meadowview Development Association Ticket Auction
Thunder in the Valley – Maritime Off Road Racing
Aylesford Fire Department Fishing Tournament
Berwick Gala Days Car Show
2nd Annual Don Wells Golf Tournament
PTSD Golf Tournament
Acadia Celebrity Hockey Dinner
Acadia Backpack Relief
New Ross Senior Woman's Soccer Team
Coldbrook & District School Fundraiser for new playground equipment
Glooscap Curling Club – Tropicurl
Salvation Army Christmas Sponsorship
Acadia Novice Advanced Hockey Team
Fred G. Kelly High School Hockey Tournament
Berwick Ringette Association Silent Auction and Dinner
Valley Wild Bantem AA
Team Diabetes 2015 Prague Marathon